Blog Home
Quantifying Fake Accounts and Inauthentic Engagements on Instagram
Instascreener Research Finds Over 150 Million Fake Accounts on Instagram; Fake Engagement Crackdown Begins to Show Success


Instascreener estimates that at least 150 million fake accounts exist on Instagram. Despite this seemingly-high number, Instagram has shown some success recently in cracking down on fake activity, with engagement rates from influencers with the least-authentic audiences declining by 34%.


To estimate the number of fake accounts on Instagram, Instascreener analyzed the audiences of nearly 5 million influencers. Among these influencers, Instascreener estimates that 22% of total follower counts are from fake accounts. On average, fake accounts follow over twice as many accounts as real ones. This means that, though fake accounts represent 22% of total follower counts, Instascreener estimates their deduplicated share of total accounts on Instagram to be just 9%.


In June 2018, Instagram reported having 1 billion monthly active users. Multiplying this figure by 9% suggests at least 90 million fake accounts on the platform at that time. Additionally taking into account the many inactive accounts in the platform, plus Instagram's significant growth since June 2018 (estimated at >30%), Instascreener estimates that there are more than 150 million total fake accounts on Instagram at present.


Since May, engagement rates of influencers with the least authentic audiences have dropped from 1.7% to 1.1%—a fall of 0.6 percentage points. Over the same period, engagement rates of influencers with the most authentic audiences have held steady at 1.7%. (See chart below.) This decline suggests that Instagram has had some success in cracking down on inauthentic activity. If this trend continues, we can expect the number of fake accounts and inauthentic activity to decline further in future months.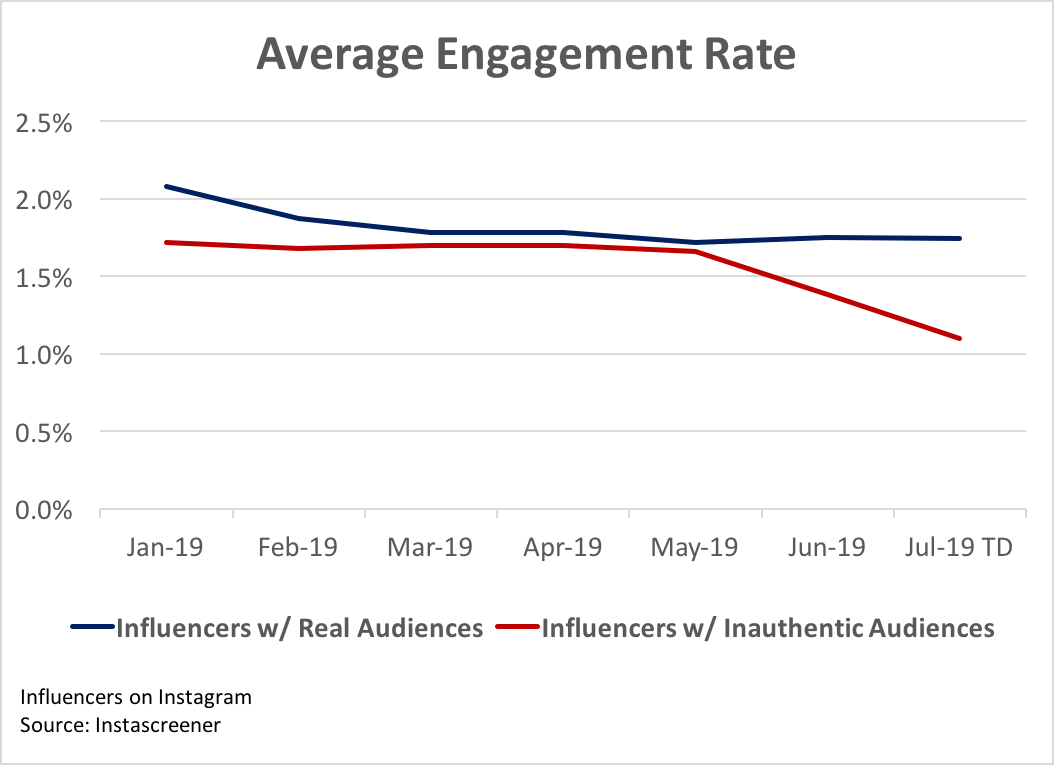 Methodology: To identify fake accounts, Instascreener uses proprietary machine learning software that looks for clues that bots and inauthentic accounts often leave behind. For example, if an influencer has a suspiciously high jump in follower count, or if an inordinate number of comments on her posts are in a foreign language, or if the same follower leaves the same comment (e.g. "Great pic!") on many of her posts, it's likely a high percentage of her followers are fake.


About Instascreener: Instascreener (formerly known as Points North Group) is an influencer marketing analytics company. Combining machine learning with proven research techniques and industry-leading experience, Instascreener provides brands with unbiased, third-party screening and measurement of their influencer programs so they can eliminate waste and fraud, optimize spend, and maximize ROI.


Interested in influencer marketing data? Our influencer insights and competitive intelligence reports include overall metrics and benchmarks plus brand-by-brand breakdowns of influencer spend, fake followers, and eCPM. To learn more about subscribing, or to discuss custom analysis, please contact us at info@instascreener.com.