Blog Home
Removing Like Counts Leads to 11% Decline in Engagements
At the end of April 2019, Instagram announced that it would test removing publicly-viewable like counts. Instagram began the experiment in Canada, and in July expanded it to Australia, Brazil, Ireland, Italy, Japan and New Zealand.
To estimate the effect of this experiment, Instascreener analyzed 16 million posts from influencers worldwide, comparing engagement rates in April--the month before the experiment began--to engagement rates in August. Instascreener determined the primary location of each influencer by analyzing location-tagged posts.
In countries where Instagram hid like counts, influencers' engagement rates fell by 11% relative to countries where Instagram did not hide like counts. This research suggests that influencers could expect to see their like counts decline by about 11% should Instagram remove public like counts worldwide.
In April, the month before the experiment began, influencers' average engagement rate in the test countries stood at 1.9%. In August, this figure fell to 1.5%--a decline of 20%, or 0.4 percentage points.
By contrast, in countries not included in the experiment, engagement rates fell from 1.8% in April to 1.6% in August--a decline of 9%, or 0.2 percentage points.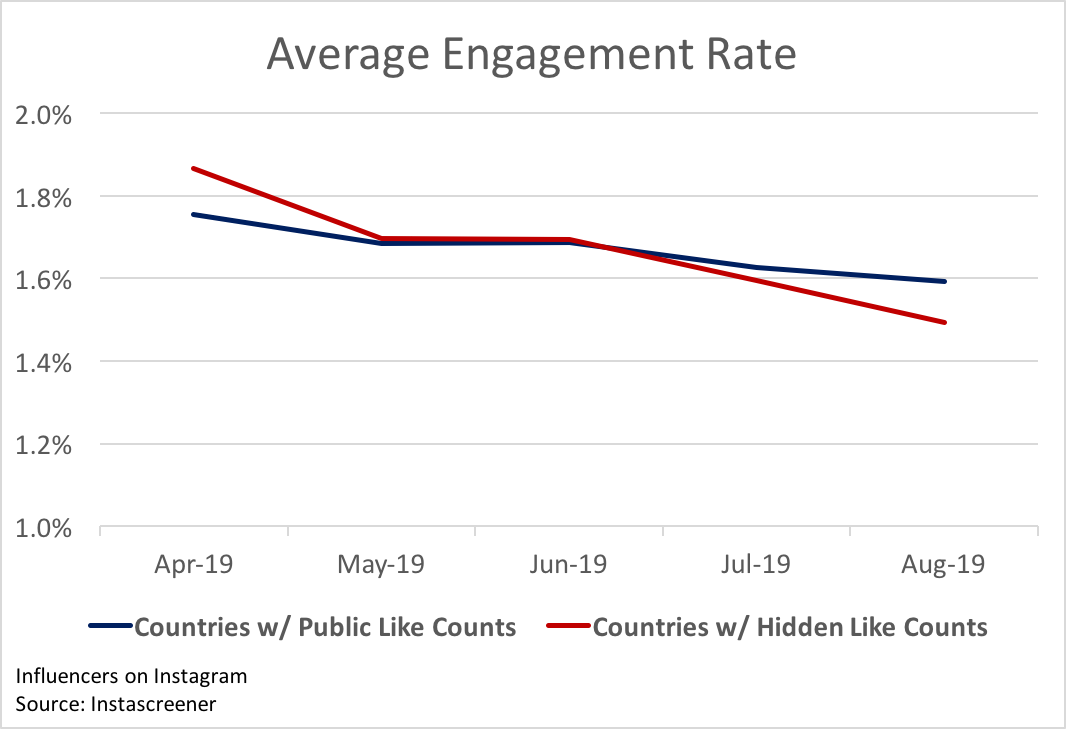 This means that engagement rates declined by an additional 11% in countries where Instagram hid like counts. "While engagement rates seem to be declining worldwide," said Sean Spielberg, Instascreener's Co-Founder and CEO, "the decline has been much more pronounced in countries where Instagram removed like counts. If Instagram extends this experiment to the United States, US-based influencers could expect their like counts to fall by about 11%."
About Instascreener: Instascreener (formerly known as Points North Group) is an influencer marketing analytics company. Combining machine learning with proven research techniques and industry-leading experience, Instascreener provides brands with unbiased, third-party screening and measurement of their influencer programs so they can eliminate waste and fraud, optimize spend, and maximize ROI.
Interested in influencer marketing data? Our influencer insights and competitive intelligence reports include overall metrics and benchmarks plus brand-by-brand breakdowns of influencer spend, fake followers, and eCPM. To learn more about subscribing, or to discuss custom analysis, please contact us at info@instascreener.com.